For a better world, we are all responsible! As local communities and travelers. Together we can make Earth a better place.
 With the development of the world each day we face more and more climate change that affects not only our life but also our ecosystem where lives thousands of animals, plants, insects… that all play a big role in saving and surviving. In this post, we will try to show you the best way to travel green in Morocco for more sustainable eco-tours that help you get the best experience and help the local communities and the surrounding environment.
How to participate in green travel and sustainable tourism in Morocco?
1.Go on a hike in the Atlas mountains
The Atlas Mountains is one of the main chains of mountains in Morocco, offering some of the best adventures in the country. If you are in Love with hiking and camping, Go explore Toubkal Peak, the highest peak in North Africa with over 4186m alt, or Mount M'goun 4067 alt. There are regions also that offer some great travel experiences such as Ait Bouguemez Valley. 
Atlas mountain trek will give you the best Travel green experience while hiking with locals and using their services. Explore the beautiful Berber villages and participate in eco-friendly programs that benefit locals.
In winter, Jbel Saghro in the Anti Atlas mountain will be an amazing destination for your hiking/trekking experience in Morocco. With it's volcanic  mountain forms and hospitality of locals, it's a great place for your sustainably travels in Morocco.
2. Go for a homestay in Morocco
Homestays in Morocco are a great way to really get in touch with locals and discover their culture, it's also the best way to Travel Green. the hospital in Morocco is something incredible, it's just a part of the pride and culture of locals. Traveling like locals and staying with locals at their homes will not only make you a member of the family but will also give you the best traveling experience in Morocco.
Go for a nomad homestay somewhere in the wild of the Sahara desert of Atlas mountains, nomads still exist and they would be happy to host you and show you their style of living that stands against all the changes of the world for centuries.
In Additional to the Green travel experience you will get from the homestays, you can be an additional revenue for local communities in some very isolated and remote regions.
3. Buy your souvenirs from locals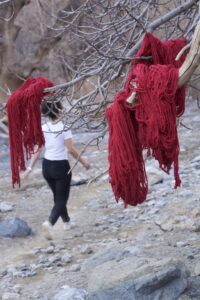 As travelers we always want to get a souvenir once we are in a different country. Morocco is very famous for it's amazing handmade crafts that are spreading on all the markets, Medinas and souks. However, it's not always the maker who get the fair price, Therefore avoid big markets and shops and buy your souvenir directly from the craftsman and local cooperatives. Here you will be sure that you have participated on the Moroccan sustainable tourism and you have got the best and fair price for both you and the craftsman.
Every region has it's own specialty of crafts and handmade, if you are in Taznakhte or Ouarzazate or deep a mountain valley like Ait Bouguemez make sure to explore the women rugs cooperatives that are doing great work! there are regions that are famous for leather, poetry, Argan Oil, fossils…Make sure go to the sources to get the best quality and to help locals.
4. Choose your accommodations well
During your travel green in Morocco, make sure to choose an accommodation that sustainably looking after the surrounding and impact the local community. Ecolodges are the best eco-friendly accommodations,  spreads outside the cities. You always can also look for Farms or Berber houses that are usually belongs to families in the valleys and remote Areas.
Kasbahs in Morocco can be also the best Eco friendly accommodation that you can find mostly on the south East Morocco. If you head to the Sahara desert, Desert camps can be your best option to explore the Sahara on a sustainable way.
Find some of the best ecolodges in Morocco here