Tips and stories about traveling in Morocco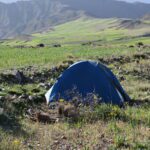 camping in morocco
Without a doubt, camping while traveling is the best way to connect with nature, the only method to acquire pure oxygen, and the best way to reconnect with yourself. Camping in Morocco is generally safe and free, though this varies depending on the region and area. So here are the greatest spots to camp in Morocco whether trekking or simply enjoying the area.
Going wild camping in Morocco, where you can fully appreciate the country's natural splendor, may be fascinating and daring. It is, however, critical to be organized as well as cognizant of the surrounding environment and community.
 Trekking in the high Atlas mountains is a popular activity for mountain enthusiasts. The 4168m Toubkal summit attracts hundreds of visitors each year, while camping on the peak has recently been restricted, particularly around Imlil, while you may still do wild camping in various places of the surrounding area. Conceder camping at Lake Ifni It's one of the best sites to camp in the High Atlas mountains, located on the southern side of the summit. 
M'goun Peak trekking is one of the famous places where you can camp in Morocco wild taking the challenge to claim the second high summit in Morocco. The region has different plateaus as well as valleys where camping. The tour companies such as Morocco Green Tours and Adrar Travel hold some of the best itineraries for camping and adventures trekking trips.
Camping in Sirwa or Jebel Saghro is widely famous during the winter when this region in the anti-Atlas mountains is known as busy time. With the volcanic mountain views, camping here in winter will allow you to enjoy some of the best starry skies in the country, and known for the safety and hospitality of the Ait Atta Tribe, the main inhabitants.
Camping in the lakes in Morocco
Morocco's camping opportunities near lakes provide a tranquil, scenic setting amidst stunning scenery. The nation is blessed with a number of beautiful lakes that offer possibilities for outdoor enthusiasts to engage in camping and leisure activities.
If you enjoy camping, consider camping among lakes in Morocco. Some of the greatest and most recommended lakes to visit are those in the Atlas Mountains, which can provide you with an unforgettable camping experience. Tislit Lake, Isli Lake, Lake Tamda, Lake Tigelmamin, and Ifni Lake provide a tranquil setting for camping; however, bring your food and wood with you if you want to make it more easy.
camping in Morocco desert
Camping in the Sahara desert is a fantastic experience that immerses you in the immensity and mystique of one of the most famous places on earth. You will encounter breathtaking sand dunes as you travel through this dry region, creating an unearthly atmosphere. Whether you decide to go on a self-supported excursion or sign up for a guided tour, camping in the Sahara gives a special chance to escape from the modern world and appreciate the simplicity and tranquility of the desert. Set your camp beneath the starry canopy, where the desert's solitude accentuates the majesty of the night sky. Enjoy the tranquillity of the desert as it comes to life with the warm sun as you awake to the delicate hues of sunrise painting the dunes.
Morocco Sahara desert tourism known a huge growth later, a growth that has also involved camping and overstaying in dunes. At Erg Chebbi dunes there are over 40 luxury camps that contain all the necessary comfort for your experience. It is one of the best ways to travel green knowing that these luxury camps are mostly owned by locals and use solar panels for electricity.
cAMPING IN mOROCCO PROBLEMS
Often camping in Morocco face little problems that can affect your experience. As it's not always easy to find a good ground for camping, make sure to ask locals about the camping places if you are traveling by yourself; however travel companies always provide a good places for camping.
Water often can be difficult to find in some parts, therefore camping near a source of water is widely common. unless you are in the desert regions, then it's better to be prepared for enough water for your camping night.
Often Dogs can be aggressive when you are hiking in Morocco, make sure to leave no food on you camping places, this will attract dogs and other animal to you tent.
The more you camp wild in Morocco the more you are get no visitor. If you camp near a village, don't be surprised by the visits of locals and the curious kids who are want to see who is the stranger who camps on their valley/village.
In general, it's very safe to camp in Morocco,  however it's always better to hire local guide or a travel company to sort all the camping issues in the wild of Morocco. When camping, put your security first. Be mindful of your surroundings and take the required safety precautions. Bring a small first-aid kit, a map, and let someone you can trust know where you're going. For a safer experience in the desert, it is advised to hire a local guide or sign up for a scheduled trip.