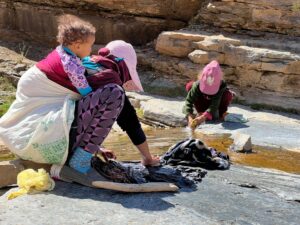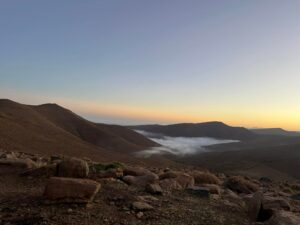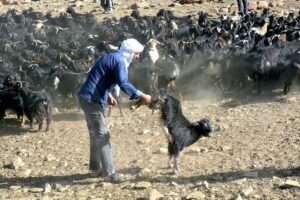 Trekking with the last nomads in Morocco is a true eco-friendly Morocco experience we offer twice a year, during the annual transhumance of the Amazigh ( Berber) tribes of Ait Atta. Offering an exceptional holiday to learn about the old lifestyle that stands against all the world changes. Walking with the nomad families in Morocco that emigrate from their homeland  Jbel Saghro by the beginning of summer to their pastures in the High Atlas Mountains and back by the first snow on med September. This journey that takes over a week of walking and camping is an amazing cultural Moroccan adventure that will take you deep into the amazing landscapes and the warm hospitality of locals. It's not only a trekking trip with people, it's a traveling experience with animals, humans, and exceptional landscapes along the way.
Trekking with nomads highlights
Participate in Eco-tourism and sustainable trip in Morocco

Make good Impact in local communities during your vacation in Morocco.

Exceptional

 

travel green experience

 

in sharing every moment with the

Ait

Atta tribe.

 

Join one of the best cultural tours in Morocco

 

Trekking to cross the High Atlas and head towards the south.

 

Discover

Ouzoud

waterfalls and the valley of

Ait

Bouguemez.

Explore the old lifestyle of Moroccan Berber nomads

 
transhumane trip conditions
The minimum age is 12 years.

 

Suitability – you need to be in good physical condition and

reasonably fit

.

 

Level 2 – medium. Although you

don't

need to be an expert rock climber to complete this route, you should be physically active and accustomed to taking day walks.

You'll

be sleeping in bivouacs and walking on average six hours per day.

 

The best temperature,

not

cold nor hot: it is

mainly mid-

April to the end of May and

mid

-September to the beginning of November.

 
iTINERARY: trEKKING WITH NOMADS IN mOROCCO GREEN TRIP
Day 1: Transfer from the airport to the Riad in Marrakech 
Your guide will welcome you to the airport and drive you to your Riad in the heart of Medina in Marrakech. 
Duration: 20 minute drive
Accommodation: Riad/hotel 
Meals: Dinner
Day 2: Marrakech – Ouzoud waterfalls –  Ait Bouguemez valley 
After a Moroccan breakfast, we start driving to Ait Bouguemez Valley. On the way we will drive 16km off the main road to visit the famous waterfalls of Ouzoud, a great natural place where there is an opportunity for a small walk. Barbary apes are easily observed in the forest there. 
We continue our way to Ait Bouguemez via Azilal and witness amazing views of the High Atlas throughout the 78km snaking road. 
We arrive at our guest house in Ait Bougmez. 
Duration: 5 hours- 2 hours walk
Accommodation: guest hous
Meals: full board
Day 3: Ait Bougmez – Ifran – Tamda (Nomads pasture) 
We meet our muleteers and load the mules. As we walk through the valley of Ait Bouguemez towards the nomad's place, we will cross fields while meeting the local people. 
First meeting with the nomad family and night in the tents. 
Duration: 5 hours hike
Accommodation: camping tents
Meals: full board
Day 4: Tamda – Pass of Tizi-n-Tirghiste (2629 m) – Plateau Izoughar (2525 m) 
By the first light of the day, the nomad family will wake up and start preparing for the trip. After having breakfast, they will start dismantling their goat hair tent and packing up the luggage on the camels and mules. The journey will take us towards the lake of Izoughar. We will cross Tizi n Tirghist at 2629m altitude. We continue down the valley of Ait Bouguemez, but this time accompanied by nomads and their flocks, then following the path up towards our first camp in Izoughar Lake 2500m. 
Duration: 4-5 hours trek
Accommodation: camping tents
Meals: full board
Day 5: Lake of Izoughar– Edge of Tizi n Igrourne (3200 m) 
As a caravan, we continue our 5th day towards the Edge of Tizi N Igrouren getting close to the High  Atlas central peaks among the wild landscapes. Sharing every moment with the nomad family. 
We arrive at Aqqa N Izoughar and camp in the Edge of Tizi n Igrouren. 
Duration: 5 hours trek
Accommodation: camping tents
Meals: full board
Day 6: Tizi –N- Igrourne (2700m) – Tizi – N- Tamgmart (2976m) 
Today's itinerary will offer us an amazing view by crossing the Mountain of Adrar n Amzourka. We will have to cross Tizi  Igourane and Tizi N  Tamgmart  3976m to reach the top with its amazing landscapes and then we go down towards our camp. 
Duration: 6 hours hike
Accommodation: camping tents
Meals: full board
Day 7: Trekking with nomads from Tizi-n- Tamgmart to Mejdag (2380m) 
Today's journey of walking with Berber nomads will take us to the heart of the Atlas in the territory of the Mgoun tribes. Here we find a succession of mountains to the lunar landscapes. At the top of Jbel Abouch, we discover breathtaking views stretching out of sight until the nomad family camp. 
Duration: 5 hours walk with nomads
Accommodation: camping tents
Meals: full board
Day 8: Mejdag to Tizi n Toudat 
Continue our transhumance travel with the last nomads in Morocco, unique landscapes and experiences to try, and moments to share. Along the journey nomad family will need our help and it's a part of our eco-friendly experience to share every asset of their journey.
Duration: 5 hours trek
Accommodation: camping tents
Meals: full board
Day 9: Tizi N Toudat – Timrdal
As we get closer to the south you will feel the difference in the landscape,  fauna, and flora of the region.  Camping with nomads here will be an amazing experience during your green traveling.
Duration: 5 hours
Accommodation: camping
Meals: full board
Day 10: Timerdal – Madent 
On our last day in trekking with the nomad family that they become your family, you will hike together to reach our last camping site for this tour crossing more dry plateaus and little gorges. Tonight it's a celebration night therefore our nomad family will make a special meal for everyone, celebrating the safe journey, the travel, and nature.
Duration: 4-5 hours 
Accommodation: camping tents
Meals: full board
Day 11: Transfer to Marrakech 
After breakfast we say goodbye to the Berber Nomad family they will continue their journey to Jbel Saghro, their homeland. This is where your Morocco Eco-adventure ends. Our driver will take you on a drive to Ait Ben Haddou where you will have lunch and a walk to explore the UNESCO site with your guide.
The afternoon continues crossing the High Atlas mountains to Marrakech.
Duration: 6hours drive+ 1 hours walk
Accommodation: Riad in Marrakech
Meals: full board
Day 12: Departure 
To know about the nomad transhumance:
The departure date for this culture tour in Morocco: 
20th September to 30th September 2023. 
Trek options and daily path: 
It takes four to seven hours walk every day for this trip with Moroccan nomads. You can choose daily between following the shepherd and his herd of goats and sheep or the Camels/mules that pull the luggage. 
The hikes we offer in Morocco are all led by graduates of the Moroccan Guiding School, who speak fluent English, French as well as other languages. They are very professional with a deep understanding and knowledge of the land, history, and traditions of the country in which you will spend time with the people you will meet. They are also qualified in first aid. 
All your meals will be carefully prepared by our cooks who use the spices of North Africa to create tasty and appetizing food – fuel for your hike. 
There aren't many people who can speak your language, but you can tell they're caring by the way they treat their pets. They will share their music and sense of friendship with you at night. With farmers, shepherds, nomads, fathers, brothers, and sons, you will form connections.  
 They make some extra money by showing you their secret pastures, discussing their way of life, and demonstrating their nation. This enables families to purchase books and educational resources for their kids in addition to basic items like sugar, oil, and tea. Their dedication and drive will show you the best that the Moroccan nomads have to offer, making your journey not only successful but also unforgettable. 
Although they don't speak your language, the nomad family is a member of the tribe, the Ait Atta, and some of them are our team's families. They will be more than pleased to join you and walk you through every day of their lives as they make their yearly transhumance as nomads. 
We are ready!  get in touch now and book you Morocco Green Tour!