Argan's harvesting experience from Marrakech
Argan harvest experience is one of the most unique experiences you can try during your visit to Marrakech and Essaouira. We take you on a 2-day green trip to where Argan Trees are predominantly found. This green tour involves harvesting the fruits of Argan trees, Extracting the valuable Argan nuts, and producing the Argan oil. This sustainable experience from Marrakech will introduce you to the culture and nature of the Souss region. Immerse yourself in the culture and share amazing moments with locals.
The Argan tree has tiny, round fruits that resemble olives. When these fruits are ready to be picked, they ripen and change from yellow to a rich scarlet hue. Normally, you would assist neighborhood farmers in collecting the ripe fruit straight from the trees. The fruits can be knocked down manually or with the use of long sticks.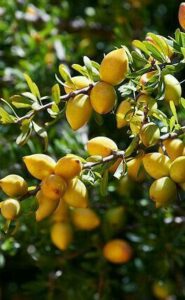 About Argan's harvesting experience:
Season for the trip: From June to August
Duration: 2 days/1 night trip
Detailed itinerary for Argan's harvest experience:
Day1: Marrakech – Argan harvest experience around Essaouira
Our guide will pick you up from your Riad/hotel in Marrakech and drive you for a few hours to start your Argan harvesting experience, just a few kilometers away from Essaouira we will stop to meet a local farmer who will introduce us to his farm. Then you start the Argan harvesting experience by collecting Argan nuts from some selected trees assisted by your guide and by the Argan farmer for approximately 1 hour.
Later on, we head to one of the women's cooperatives to explore and participate in the details process of making the Argan oil. The next step is to extract the nuts once you have gathered enough fruits. The fruits are traditionally cracked with pebbles or a stone mortar and pestle. To keep the kernels whole, takes skill and accuracy.
Enjoy having a traditional lunch meal at the cooperative or in a locally hosted family home.
By the end of the afternoon, you will have learned how to harvest the Argan and the hard process for making the oil and you are sure that your experience enhances both the lives of people involved in the process and the preservation of this special habitat.
Drive to Essaouira overnight.
Day2: Essaouira guided tour  – Travel to Marrakech
Essaouira, a Moroccan seaside city, gives a superb opportunity to learn about the city's vibrant culture, rich history, and beautiful surroundings. What to anticipate on an Essaouira guided tour is outlined, You get 3 hours guided tour to explore the Medina of Essaouira, the Scala fortress and ramparts, the fish market and the port, and the Mallah.
Essaouira also can be a great place to try windsurfing, camel riding, And horse riding.
In Essaouira, Seafood is huge. You can experience buying fish and making it cooked by someone, it's a great experience to end up the day trip in Essaouira.
Drive to Marrakech around 5 pm
What's included in this Sustainable experience from Marrakech:
Transport
Driver/guide
Argan harvest experience
Lunch on the first day
1-night accommodation in Essaouira
Guided tour in Essaouira